All for Pets Veterinary Clinic now offers Scratchpay! With their simple payment plans and high approval rates, it's no wonder why Scratchpay is the fastest growing financing provider in the veterinary space.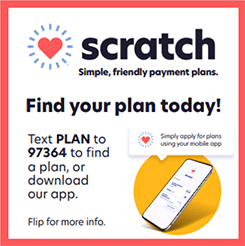 Keep all your furry loved ones healthy by providing them with the care they need. Learn more at www.scratchpay.com!

CareCredit healthcare credit card for veterinary care for pets big and small
Whether it's a routine checkup or emergency surgery, you shouldn't have to worry about how to get the best medical care for your pet. That's why we're pleased to accept the CareCredit healthcare credit card. CareCredit lets you say "yes" to recommended treatment for your pet immediately, and pay for it in convenient monthly payments that fit your budget.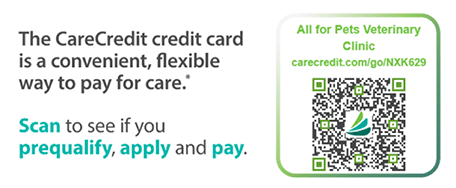 CareCredit is the healthcare credit card designed exclusively for healthcare services with special financing options.* With CareCredit, you can use your card for all of your pet's follow-up care as well as annual exams and vaccines.