Dr. Teresa Durham (Wojciechowski)

Cabot Veterinarian Dr. Durham (Wojciechowski) has been serving her hometown since 1995 with the vision that a veterinary clinic should provide not only to help the patients but to provide resources and education to our 'pet parents'. Through better knowledge, we aim to help our clients understand what and why their pet may need certain therapies. Our main goal is to do what it takes to keep our patients healthy and happy. If the need arises, we are here if they become sick.
Dr. Lauri Geater

Dr. Lauri Geater joined All For Pets Veterinary Clinic in 2012. She practiced for 10 years prior to that in North Little Rock. Dr. Geater is originally from Arkansas, but attended Mississippi State University for her undergraduate and veterinary degrees. She is married with 2 boys, ages 14 and 10, and one dog, Lola, a shelter rescue. Dr. Geater is certified in veterinary rehabilitation, which is similar to physical therapy, to help pets recover from orthopedic injuries/surgery and arthritis due to aging. She stays busy with her family, fishing, and supporting her Mississippi State Bulldogs. Contact Arkansas Animal Rehabilitation & Fitness
Dr. Kristie Coley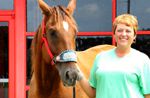 Dr. Kristie Coley joined All For Pets Veterinary Clinic in 2011 as a weekend relief veterinarian. She had been in private practice for 14 years prior.  During the week Dr. Coley is the Program Director and the Veterinarian for the ASU-Beebe Veterinary Technician Program.  Dr. Coley attended veterinary school at Louisiana State University.  She received an undergraduate degree from Arkansas State University.  She is also certified in veterinary rehabilitation, which helps animals with orthopedic injuries, surgical recoveries as well as common issues such as arthritis in senior pets.   She is very active in all things outdoors, loves anything that involves water, and is an avid football fan.  She is an active sportsman loving to duck hunt, deer hunt, and fish.  She has been active in field trials with her Labrador retrievers when her busy schedule allows.  Her family also includes a Chesapeake Bay retriever, a shallow water retriever (AKA Dachshund), horses, cats and birds.
Hospital Manager

Gina
I have been the Hospital Manager since 2002. We moved here from Chicago in 1995. My husband and I have 3 dogs and 2 cats. All of our animals are rescues or just walked up to our home and we have adopted them. We enjoy swimming in our pool with our friends. We also love to watch the Chicago Bears and Cubs! Fans Forever!
Nursing Staff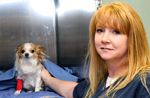 Cyndi – Nurse Coordinator
I have been with All For Pets since 2003 and love it here. I have 3 dogs, (Daphne, Scrappy and Rose) 1 cat, (Scrat Cat). All of my pets have been rescues or adopted, with the exception of Rose, she was a gift. Thanks Kids, but we love her!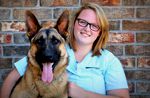 Bailey – Surgery Coordinator
Hey Y'all! My name in Bailey, I have been with All For Pets since April of 2014. I was born here in Arkansas but grew up in Alabama. I moved back in 2009 and have always had a love for animals. I have a German Shepherd named Diogi and two horses named Poco and Sierra. Right now I am currently the dental assistant for the clinic and I absolutely love what I do.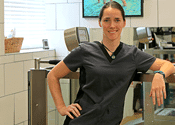 Stormy
Hi! My name is Stormy, I play the part of Nurse here at All for Pets. I attended High School locally at Vilonia High, as well as have a Bachelor's degree in Animal Science from the University of Arkansas at Monticello, and I plan to further my education in the veterinary field. I have a strange affection towards learning new things and thanks to diversity and intensity of this job we see new challenges every day and strive to rise to them. I have two tubby cats at home, Smudge and Little Man. I enjoy spending my free time out and about exploring trails and camping, pretty much anywhere you can hang a hammock.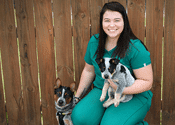 Kate
Hey, everyone! I'm Kate. I started at All for Pets in January 2017. I am currently enrolled in the ASU-Beebe Veterinary Technician program and hope to graduate in the spring of 2017. I am married to my High School Sweetheart and we have one son, named Cooper. We have 2 Blue Heelers, Baileigh, and Tuff. As a family, we enjoy spontaneous weekend trips to Arkansas' various State Parks hiking, kayaking, floating and spending time outside as much as we can. I was born and raised in Arkansas and it is where I have planted my roots. I am a diehard Chicago Cubs fan. I Love Everything Baseball and softball! I hope to eventually get my Bachelors in AG Business.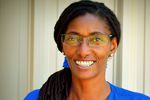 Veronica
Hey my name is Veronica, I have been a vet assistant for 10 years. In my spare time I enjoy hiking, camping, film photography, playing with my two cats, Sunshine and Shaft, and my most fun comes from watching the best NFL team ever. GO COWBOYS!!! while I am enjoying all that fun, I plan to graduate from UALR with a Bachelor Degree in Biology (Spring 2016) and enhance my microscopic specialty skills in fecal interpretations.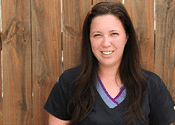 Megan
Hello everyone! My name is Megan. I have been a member of the All for Pets team since 2016. I was born and raised here in Arkansas. I have three wonderful children named Austin, Jeremy, and Adrianna. We have recently added a new member to our family, a cat, named Mongoose.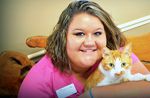 Ericka – Client Relations Coordinator
Hello! My name is Ericka, I am the Client Service Coordinator and Safety Advisor. I have been with All for Pets since February of 2014. Our silly clinic cat, Smokey, has claimed me and we are now best friends for life! I love bow hunting, lake trips, and spending time with the amazing friends I have made here. I am also a fan of the Arkansas Razorbacks and the Pittsburgh Steelers!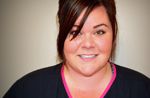 Brandy
Hello! My name is Brandy. I moved to Cabot, Arkansas from California about 7 years ago. I still can't get used to this weather. I am married and have one son he will be 10 this year (2016). We have 2 cats (Calix & Hades) and 2 Lionhead Rabbits (Gramps & Yeti). I enjoy my job at All for Pets very much. The clients and Pets are great as are my co-workers. In my spare time (when I have some) I enjoy Arts/Crafts, Photography and spending time with my family.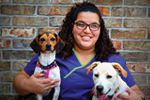 Kelsey
I'm Kelsey. I have two dogs, Abbie and Daisy. Abbie is a lab mix and Daisy a beagle mix. I love working here at All For Pets. Seeing all of our clients leave happy and healthy brightens my day!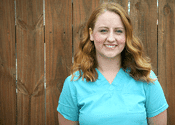 Katy

Hi, my name is Katy. I moved to Cabot in 2015. I have been working at All for Pets since July of 2016. I have two cats named Xenon and Pluto whom I love very much. I really enjoy working here and seeing all the fur babies come in.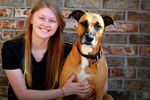 Hanna – Resort Coordinator
I am the Resort Coordinator and love what I do. I have 3 dogs and 1 cat at home. I love to hike, float, camp,swim and just about anything else with my pups. I strive to treat your animals how I would want mine treated. I love all the babies that come into All For Pets!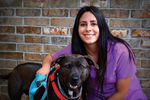 Magan
My Name is Magan and I work in the resort at All For Pets. I have been working here since May of 2015 and I love my job. I love being able to work with animals every day. I have a cat named Binx and a dog named Egypt who I recently adopted from All For Pets. I love working in a vet clinic because I aspire to become a veterinarian one day.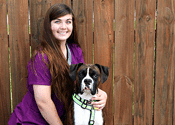 Payton

Hey y'all, my name is Payton I work in the resort at all for pets. I love coming to work every day to take care of y'alls animals. I have a reverse brindle boxer his name is Brinklee and a Siberian husky named Slade. On my free time, I enjoy playing softball, drag racing, and hanging out with friends and family but I spend most of my free time going on adventures with my Fiancé and Brinklee.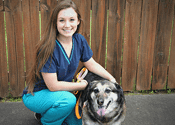 Kristen

Hey Y'all! My name is Kristen and I work in the resort at All For Pets. Taking care of all your fur babies is what I love to do! I have 2 dogs, Sassy and Shorty, a horse named Penny and a cat named Chi Chi. My hobbies consist of horseback riding and traveling! I am currently working towards my Associates in Animal Science at ASU-Beebe. My goal is to become a small and large animal veterinarian that specializes in horses.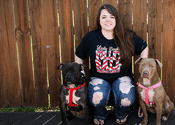 Rochelle

Hi my name is Rochelle. I have an American Pitbull Terrier (Rosie) and a Staffordshire Bull Terrier (Titus) who are inseparable, all three of us love to go to the lake and jump in as if we didn't have one single thing in the world to worry about. I'm beginning to learn the basics on training my dogs, I didn't know the importance in that until I started to work here. I love seeing how much my dogs want to learn and strive for my approval even if that really means strive for a treat! Ha Ha! I plan to one day have my own kennels to train and rescue "pit bulls". I currently attend school at ASU Beebe and is working on my Associates degree and to become a Vet Tech which led me here. I joined the crew at AFP May 2016, not long ago but it feels like I've been here forever. Everyone has made me feel like family and as if this is my home, my safe place. My mission is to make sure all of your babies feel the same when they arrive here whether it be for medical assistance, rehabilitation, or even if it's just stay a couple days. Hope to see your "parts-of-the-family" here sometime soon.